Ukrainian Style Music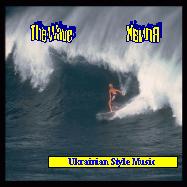 The Wave release of Ukrainian Style Music offers nearly 55 minutes of a musical journey. The release includes 8 energetic polka type songs, several medleys as well as three wonderfully romantic ballads. Something for everyone. Best of all, even though most of the songs are in Ukrainian, their interpretation could not be clearer to the individual listener and new fan of The Wave.
You may have heard it before....hear it all again like it was the first time.



Tracks
1. Nova Moda
2. Why Am I Not Pretty
3. Zrada
4. Bumble Bee
5. Cossacks
6. Lipid Svitoot
7. Ivanku
8. Play Fiddle Play Medley
9. Poltavski Rushnychok
10. Red Rose Medley
11. Dont Follow Me
12. Oj Harna/ Ticha Voda
13. The Rose

A complete discography is available in the multi-page booklet that comes with the recording.